How to Install
---
​
Note: Additional details are available in the How to Install Instructions PDF (above)
---
1. Tools You May Need (not included):
- Rechargeable, variable speed drill
- 3/8" diameter drill bit
- 3" Robertson bits #1 and #2
- Slot screwdriver
- Non marring hammer with 1" head
- Level
- Caulk or sealant for both mitered corners and to cover gaps between the frames and window jambs
- Pencil
- Loctite® glue 414 or contact cement required for outside mount L frame applications (not supplied)
- Jig Saw, Hack saw, Dremmel® Tool or exacto knife if cut-outs are required
---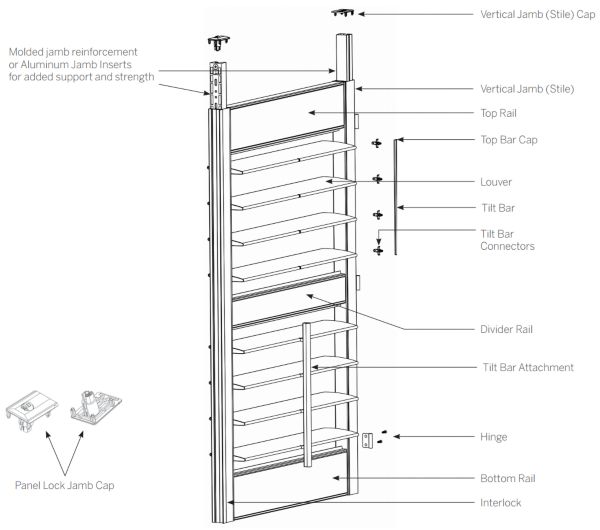 Panel locks are located at the top and bottom of a shutter panel. They are used to keep panels securely closed and can also be used to level the panel. Panel locks are standard for 4-sided frames and eliminates the need for magnets.
---
1. Frame assembly
Lay frame sides flat beside the panels to ensure that the frames will be assembled correctly and that the hinges on the panels and the frames will be in alignment.
Frames are pre-drilled with installation holes.
Installation holes are located just below each hinge on the side frames (except bottom hole is located just above the bottom hinge). Top and bottom frames should have evenly spaced holes no more than 16" apart.
Insert the plastic corner keys into both ends of the top and bottom frames. Note: Bonding is only required for an outside mount L-frame application. (see step #2)
Slide the corner key that is in the top and bottom frames into the end of each side frame.
Using a rubber mallet hammer, give a firm tap to the frame to ensure the corner keys are fully engaged.
2. Glue Corner Keys (Outside Mount L-Frame Only)
Apply Loctite® 414 (or Contact Cement) to inside surface of the corner key cavity of both frame corners to be assembled. (not supplied)
Insert the corner key, making sure the mitered corner is clean, tight and in alignment. Hold firmly till set (10 to 20 seconds).
Repeat for remaining corners.
Note: It will be impossible to detach the corners after the adhesive has set.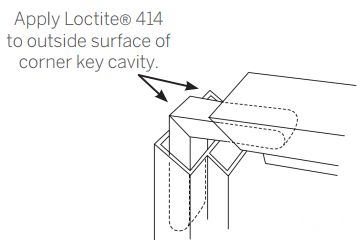 3. Metal L-Brackets
The Trim Frame, Bullnose and Décor Trim Frame will also include metal L Brackets which are attached to the back side of the frame.
With the frame face down, set a metal L Bracket on the back ofthe frame in each corner with the mounting holes bevel side up.
Using the supplied screws (#6 x 5/8"), set 4 screws in each bracket to firmly secure the corners.
If minor gaps appear, use caulk or sealant to seal the corners once the shutter is completely installed.
Note: For Bullnose, Deluxe Trim, and Trim frames, in addition to the corner key, install a 2 1/2" x 2 1/2" x 1/2" (90˚) metal bracket for a more secure corner assembly (do not glue).