Extension Brackets
(Offers clearance for obstructions) Outside mounting extension brackets will provide 3-3/16" clearance between the headrail and mounting surface. Assemble extension bracket as shown. Secure an extension bracket to each standard mounting bracket.
Spacers
Outside mounting spacers will provide upto an additional 1-1/2" clearance as shown. If spacers are used, longer screws may be required to ensure a secure installation.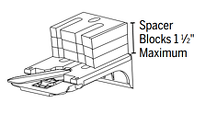 Hold-Down Brackets
(Eliminates Sway) Ideal for doors, hold-down brackets prevent shade from swaying. Assemble as shown to each side of bottomrail.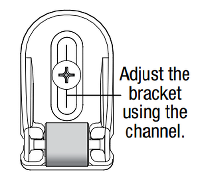 Side-Mount Brackets
Alternative mounting method when no frame is available above the window for mounting. Use only if shade dimensions fall within 12" W x 12" L (corded) or 18" W x 16" L (cordless) to a maximum of 48" W x 120" L.