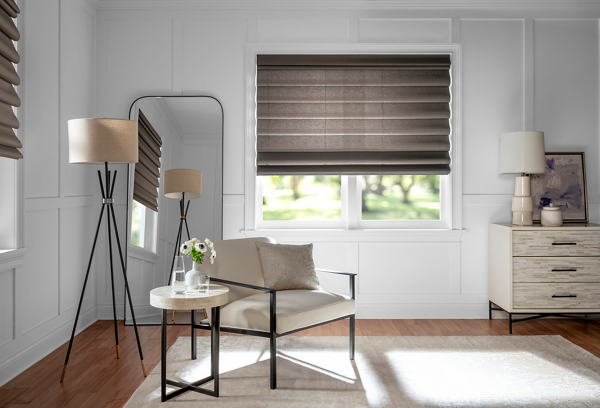 Snappy Intro title
When interior designer Brian Patrick Flynn chose Scandinavian Farmhouse as the style of the HGTV Urban Oasis 2019, he embraced the concept of hygge (pronounced hoo-guh), the Danish word describing an overall sense of contentment or coziness. Morning sunlight filtered through partially drawn shades as you sit on the living room sofa sipping your first cup of coffee. That's hygge. Window shades drawn against the cold outside as you gather with good friends around the dining room table for a shared holiday meal. That's hygge. The first trace of sunlight angling across the master bedroom wall as the window shades open and you stretch to greet the day. That's hygge. With an aesthetic that mixes rustic materials with clean, modern lines, Flynn's interiors create a sense of calm comfort, and his selection of LEVOLOR shades contributes to this serene ambience.
Light Filtering Cellular Shades set the Mood
"Firelight and natural light are both key ingredients of hygge," Flynn says. LEVOLOR Black Light Filtering Custom Cellular Shades in the living room, dining room, powder room, and front foyer of this year's HGTV Urban Oasis 2019 shape the abundant Minnesota sunlight. Energy-efficient, light filtering cellular shades allow some light through the living room's wall-to-wall windows, keeping the mood bright but balanced with a natural and protective vibe. White light filtering custom cellular shades diffuse sunlight to reduce glare and make the pretty pink home office Flynn designed feel bright and airy.
Natural Shades Create a Cozy, Sophisticated Look
Flynn's guest bedroom décor is all about creating layers of texture, and LEVOLOR Room Darkening Natural Shades in Espresso are part of that story. With textured fabric woven with bamboo fibers, the shades create a warm and inviting atmosphere while adding a natural element that's quintessential hygge.
Motorized Roller Shades Contribute to Tranquil Vibe
Flynn painted the master bedroom light blue and completed the look with matching motorized tweed rattan blue roller shades. Adjust the shades with a remote control or the LEVOLOR app without having to get out of bed, or create a custom program to open or close them automatically according to a timed schedule.
HGTV, HGTV Urban Oasis, HGTV Urban Oasis Giveaway and their associated logos are trademarks of Scripps Networks, LLC. Photos © 2019 Scripps Networks, LLC. Used with permission; all rights reserved.