Many of us are searching for ways to reduce stress in all aspects of our lives: from seeking mindfulness in a world of distracting technology and optimizing our workouts to finding balance in our diets and making sure we get the right amount of sleep.
Our homes should be designed for serenity, too. We spend most of our time there doing what matters most: raising families, celebrating birthdays and finding moments of quiet reflection. The HGTV Urban Oasis® 2019 master and guest bedrooms epitomize soothing design, so let these three ideas gleaned from the bedrooms inspire your next bedroom makeover.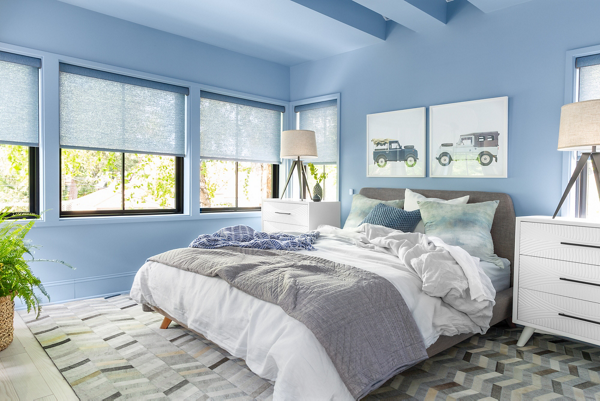 Calming neutral blue palette
Brian Patrick Flynn, the interior designer behind the home's Scandinavian farmhouse look, opted for a light blue paint color for the walls, window trim and ceiling of the master bedroom.
Psychological research has shown that blue is associated with a sense of comfort. In the bedroom, the blue creates a calming atmosphere, especially with the window shades extended. In addition to the matching color, LEVOLOR® Motorized Tweed Ratan Blue Roller Shades soften sunlight to create a soothing, restful ambiance. Plus, by eliminating contrasting colors, the room feels larger and more open.
Explore LEVOLOR's many soft and relaxing hues to create your own calm oasis, like Flynn did.
Motorized light control for a good night's sleep
Getting enough sleep is important to overall health, and one way to improve the quality of your sleep is adequate exposure to natural light during the day and a totally dark bedroom at night. Motorizing your bedroom window shades can help you synchronize your sleep/wake patterns with the sun.
The roller shades in The HGTV Urban Oasis 2019 bedroom can be programmed via the LEVOLOR smartphone app to a custom schedule. Imagine your shades lowering before you even enter the bedroom and rising each morning to help you wake up naturally with the sun.
With motorized window coverings, the possibilities are endless; create programs to block harsh afternoon sunlight in the kitchen, open the children's bedroom shades each morning, or adjust at just the right time to reduce glare.
Another added benefit to motorization is the time you'll save from having to adjust the blinds, shades and shutters around your home. Take that newly found time for daily meditation to set your mind on the path to balance.
Decorate for sleep
Creating a bedroom that you love and look forward to sleeping in is another way to improve sleep quality. One of the easiest ways to make a bedroom feel more comfortable and inviting is to layer textiles for a super lush bed. In the guest bedroom, Flynn has four layers of softness to dive into: a white down comforter under a gray linen duvet over which he layered a striped wool blanket and chunky knit wool throw.
It's all about making your bed the place you want to be at night. In the master bedroom, Flynn achieves a similar effect with a simple white linen duvet with a gray quilted blanket over it. A patterned throw blanket and four oversized pillows in varying blue hues against an upholstered headboard (which is like having a built-in pillow) set the stage for total relaxation.
Set the stage for your own calming makeover by learning more about how custom shades and blinds can be personalized to fit your lifestyle.
Ready to order? Customize window treatments suited to your exact needs and purchase online.