Textured Blinds Guide
Critical Dimensions
Cleaning and Care | Stacking Chart
| | Inside Mount | Outside Mount |
| --- | --- | --- |
| Headrail | -1/2" | -1/4" |
| Slat | -1/2" | 0" |
| Valance | 0" | +1" |
Size Limitations
Inside Mount (IM)
Outside Mount (OM)
Minimum Width
Maximum Width
Minimum Width
Maximum Width
Tilt and Lift Controls - Opposite Side
10 1/4"
96 1/2"
10"
96"
Tilt Control in Center; No Lift Control
9 1/2"
10 1/4"
9 1/4"
10"
No Tilt and Lift Controls; Slats in Open Position
6 7/8"
9 1/2"
6 5/8"
9 1/4"
Routine Maintenance
Periodic dusting will keep the shade looking clean and new. You can clean the blind hanging in place or you can take it down. By tilting the slats down, but not quite closed, you will be able to clean most of the top surface of each slat.
Periodically wipe blinds with a soft cloth, a dusting mitt, or a soft, lightly dampened cloth.
Do not use solvents or abrasive solutions to clean the blind. This will cause damage to the blind which is not covered under warranty.
You may also periodically wipe blinds with the brush attachment from a vacuum cleaner.
Top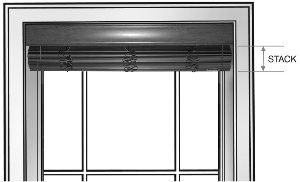 | Blind Height | 36" | 42" | 48" | 54" | 60" | 66" | 72" | 84" | 96" | 108" | 120" |
| --- | --- | --- | --- | --- | --- | --- | --- | --- | --- | --- | --- |
| Stack Height | 2 1/2" | 2 5/8" | 2 7/8" | 3" | 3 1/8" | 3 3/8" | 3 1/2" | 3 7/8" | 4 1/4" | 4 5/8" | 4 7/8" |
Ladder and Cord Count Chart
| Blind Width Inside Mount | Blind Width Outside Mount | Number of Ladders | Number of Cords |
| --- | --- | --- | --- |
| 10 1/2" to 19 1/2" | 10" to 19" | 2 | 2 |
| 19 5/8" to 33 1/2" | 19 1/8" to 33" | 3 | 2 |
| 33 5/8" to 45 1/2" | 33 1/8" to 45" | 4 | 4 |
| 45 5/8" to 57 1/2" | 45 1/8" to 57" | 5 | 3 |
| 57 5/8" to 69 1/2" | 57 1/8" to 69" | 6 | 4 |
| 69 5/8" to 81 1/2" | 69 1/8" to 81" | 7 | 4 |
| 81 5/8" to 93 1/2" | 81 1/8" to 93" | 8 | 4 |
Top