Roller Shades Guide
Measuring Types | Critical Dimensions | Cleaning and Care
Cassette Limitations | Special Brackets
Tip-to-Tip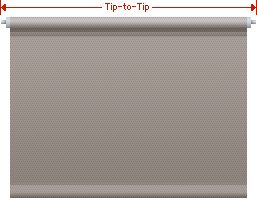 Tip-to-Tip Measure is the common measure type for most roller shades. Choosing this measure type will include the headrail "pegs" that mount the shade to the wall or frame.
Cloth-to-Cloth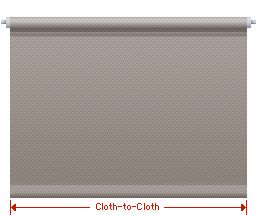 Cloth Measure is uncommon and should only be used for Outside Frame applications. The headrail is wider than the cloth of the shade which causes the "pegs" to extend beyond the width of the shade material. This total distance is 1-3/8" wide, or a gap of 11/16" on each side of the shade material.
NOTE: For outside mount applications allow the blind to overlap 1-1/2" to 3" on the sides, top and bottom of the window. You must add the overlap to your measurement; Levolor does not add width or height for overlap on Outside Mounted shades.
Top
Cordloop
Cordloop length is 3/4 the length of the shade, unless otherwise specified.
Scalloped Option
Scalloped hem adds approximately 4" to the length of the roller shade and does not roll up into the shade.
Specifications and Deductions
Width
Length
Tolerances
Minimum
Maximum
Minimum
Maximum
Width
Length
6"
144"
12"
120"
1/16"
1/2"
| Fabric Width Reduction | Control Options | Universal Brackets | Extension Brackets |
| --- | --- | --- | --- |
| Up to 1-1/8" | Left or Right | Yes | 1-1/8" |
Mounting Depths and Deductions
No Valance
Standard Valance
Cassette Valance
Minimum Installation Depth
3"
3"
3"
Flush Mount Installation Depth
3-1/2"
3-1/2"
3-3/4"
Fabric Width Deductions
1-1/8"
1-1/8"
1-1/2"
Width Tolerances
1/16"
1/16"
1/16"
Length Tolerances
1/2"
1/2"
1/2"
Valance Height
N/A
3-1/2"
Sm - 2-1/2"
Lg - 4-1/16"
Extension Bracket
1-1/8"
1-1/8"
N/A
Standard Factory Deductions from Ordered Width
| | | |
| --- | --- | --- |
| | Cordless | Corded |
| Inside Mount | Up to 1-1/8" | Up to 1-1/2" |
| Outside Mount - Tip to Tip | Up to 3/4" | Up to 1" |
Top
Care Instructions
A brush-type vacuum attachment or feather duster should be used for cleaning. If your shade should become stained, you may clean it by dabbing the spot with a sponge dampened with lukewarm water. Avoid contact with window cleaning products as these may discolor your shade. Ultrasonic cleaning is not recommended or covered by our warranty.
Color Variation and Fabric Repeat Information
Color lot variations may occur due to the process of color application. For the best color match, order all shades for a room at the same time. Pattern availability and color lot match between orders cannot be assured. Any variation in color is in accordance with industry standards.
Top



NOTE: Cassette option not available with reverse roll.
Top
Hold-Down Brackets
Hold-Down Brackets are available for securing the bottomrail in position
These brackets can stop a shade from bouncing and loosely swinging if the shade is hung on a door
Available only on outside mount
Extension Brackets
Extension brackets are available for outside mount shades
When the shade must operate around an obstruction, these brackets project the shade away from the wall, allowing easy operation
Not available with hold-down brackets
Available only on shades smaller than 60" x 70"
Bracket Projection: 2" (fixed)
Top