Accordia™ Shades Guide

Reduce Your Annual Energy Bill
Levolor's exclusive Energy Shield™ provides year round insulation and energy savings. Loss of energy through windows can account for 10 to 20 percent of a home's heating and cooling costs. Only Levolor provides a full line of energy efficient, beautifully matched fabrics that easily blend and coordinate with your existing home décor. When choosing a cellular shade for your home, consider both its R-Value and Solar Heat Gain Coefficient since both factors are used to calculate how a shade can reduce your heating and cooling costs. Energy Shield works to address both by providing additional insulation and eliminating air flow through the shade while providing filtered light. Energy Shield comes standard on our Sheer Efficiency™ collection and can be added to our Light Filtering Designer Textures and Designers Colors Collections.
Climate map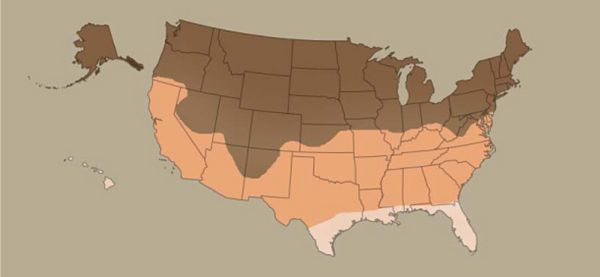 No matter where you live, Levolor has an Accordia™ Shade solution that will help keep your home comfortable while reducing energy costs. Use this map as a guide to find the right shade for your climate.
Northern Climates: Choose Sheer Efficiency™ or Light Filtering with Energy Shield.™ Both will let the warmth of the sun help heat your home, while the Energy Shield™ works as a barrier to keep internal air from escaping through windows.

Central Climates: Transformations™ combines two fabrics to maximize your energy efficiency and help reduce heating and cooling costs. On cold days, the Light Filtering fabric helps capture sunlight while blocking cold air to help heat your home. On hot, sunny days, the Room Darkening fabric controls light and blocks out the heat, keeping your home cooler.

Southern Climates: If you live in a warm, sunny area, choose a Room Darkening product to help block the sun from heating your room. Choose from our Designer Textures or Designer Colors collections.
Understanding the Science
Below is a quick visual reference on how R-Value and Solar Heat Gain work with the shade to reduce energy costs. R-Value and SHGC vary by product collection.

R-Value refers to the shade's ability to block out temperature differences. A higher R-Value indicates a better insulating shade.
Solar Heat Gain Coefficient (SHGC) is a measure of how much solar energy passes into your home. In colder climates, a higher SHGC is preferred because it allows the sun to heat the room.
Exclusive Energy Shield™
Our exclusive Energy Shield provides additional insulation to help block air, reducing your annual energy bill up to 17%*. Energy Shield comes standard in our Sheer Efficiency™ Collection and is also available on Light Filtering Designer Textures and Light Filtering Designer Colors collections.
When the weather is warm:
Blocks outdoor heat, even on sunny days
Contains cooled air, so rooms stay comfortable longer
When the weather is cool:
Insulates to help prevent heat loss
Works as a barrier to keep cold air from entering your home
Sheer Efficiency™ Collection
Levolor's Sheer Efficiency™ Collection is the perfect product for colder climates. It provides the right blend of R-Value and SHGC to provide a product suited for cold climates, by both blocking out cold air and allowing natural sunlight to help heat your room.
The many benefits of Sheer Efficiency™ include:
Reduces annual energy bills
Naturally heats interiors using the sun's warmth
Blocks incoming cold air
*Estimate based on simulated use of particular windows in ten largest metro areas by climate region using RESFEN 6 software.